Ever been planning a route or actually out flying and encounter a fix that makes you wonder, or makes you smile, or makes you admire someone or something?  As far as I know, there are only three rules about fix naming:  1. It's got to have five letters – no more, no less. 2. It's got to be able to be pronounced (although sometimes I wonder about this rule).  3. It can't be too close to another fix of the same name – like thousands of miles away.  There are fixes that have identical names – I've run into (or run over) them.
Sometimes fixes can be a challenge to pronounce. Say this three times fast: LOZWU. There is usually a vowel in there somewhere – but not always.  Fortunately, ATC has heard just about every pronunciation, so they'll probably know what you're saying.
What follows is current as of this writing, but fixes come and fixes go.  Sometimes they are replaced or renamed or even removed.  No idea who makes those decisions, but one thing's for sure … you're paying their salary!  This article focuses only on US waypoints and it's by no means exhaustive.  I'm sure there are loads more that could be included, and I'm sure you know some good ones.  I knew about some of these fix names and learned about the rest while researching.  In fact this article is much longer than I had anticipated.  It's not only US waypoints that can be "creative"; delving into foreign waypoint names could take a whole book. 
We'll start in the northeast and work our way south and west…

The RNAV (GPS) 16 into Portsmouth NH (KPSM) has a funny string of fixes based on the old "Merrie Melodies" cartoon, Tweetie Pie.  Say them out loud and you'll get the picture: ITAWT-ITAWA-PUDYE-TTATT-IDEED.  I wonder why Portsmouth claimed title to that.
Go down to Boston and you've got a few good ones: PLGRM off shore Plymouth Rock. In the skies over Massachusetts you'll also find CHWDH, LBSTA, and CLAWW.  There are GLOWB and HRALD to cover the city's newspapers, and obviously there are a few Red Sox fans around there with SSOXS, BAWLL, and OUTTT.  BOSOX is on V1 just west of BOS.  There's also a NIMOY waypoint; Leonard was born in Boston. But my favorite is the New England slang: WIKID. 
There are two adjacent oceanic fixes on L456 and L455 off the coast of New Jersey: LINND and BERGH.  If they're displayed simultaneously, it says LINNDBERGH!
Approaching La Guardia are PROUD, APPLE, and BEUTY.  And a little closer to our home base at Morristown KMMU is an ILS approach to RWY 23 with BADDA and BINGG. Could someone be paying homage to the Sopranos?
JETER is on B24, a Western Atlantic ["WATRS" in ATC jargon] oceanic route off the coast of Cape May.
The Tonight Show host and New Jersey native, Jimmy Fallon, has two fixes named in his honor, JIMEE and FALON. They are located on  (V312) just east of CYN. 
Right next door at Alexandria N85 there are two RNAV approaches that have Star Wars-referenced fixes: JABAH, OBIWN, YODAH, HANSS, & SOLOA.  I wonder why Alexandria.
Philly's got CHEAZ and STAYK (on the JIIMS3 arrival).
USAirways Captain Chesley Sullenberger ("Sully" of the famous Hudson River ditching) was based in  Charlotte, NC. He has been honored with the CHSLY 4 ARRIVAL.  One of the fixes on the arrival is SKLES, named for First Officer Jeff Skiles.
Fix naming protocols are an evolving topic; old names get dropped and new ones get invented. Ronald Reagan-Washington National (KDCA) has the FRDMM FOUR (RNAV) arrival. The waypoints are: HONNR-BRVRY-COURG-PLDGE-WEWIL-NEVRR-FORGT-SEPII. 
More evolving fixes: In 2010, during Donald Trump's popular TV show, The Apprentice, three fixes near Palm Beach, Florida were named after him: DONLD, TRMMP, and UFIRD (pronounced You-Fired). And there was a STAR named the IVNKA ONE.  Rumor has it that some pilots refused that arrival and requested other approaches. In July of 2015, the FAA determined it was all too controversial and renamed them all.
Orlando International has so many… these are all arrivals: GOOFY, MINEE, CWRLD, PIGLT, BUGGZ. Take a look at the PIGLT FIVE (RNAV) arrival into Orlando (KMCO)….but first watch a few Disney films, so you know what to look for.
One little oddity is that sometimes fixes can sound identical for example DUUNK is in the Western Atlantic route structure and only 321 miles away is DUNKK offshore Boca Raton.  I wonder if anybody has ever been cleared from DUUNK to DUNKK.
Atlanta has the JJEDI TWO RNAV arrival with loads more Star Wars themed fixes: SKWKR, EEWOK, JJEDI, WOKIE, LAYUH. Atlanta and Alexandria…go figure!
Louisville pays homage to it's native son who could "float like a butterfly, sting like a bee": AWLEE. [Editor's note:  Ali once said he was so fast that he could turn out the lights and be in bed before it got dark. THAT's fast!]
Travel south from Louisville and you're in the heart of bourbon country…BRBON. Samuels Field is in Bardstown, Kentucky (named after Maker's Mark founder Bill Samuels Sr.) It has an RNAV (GPS) RWY 03 that  features references to bourbon production: MAKRZ, MAARK , BARRL, MAASH, DSTIL.
While this is a navaid, it deserves credit: GRISSOM VOR [GUS]  at Grissom Air Reserve Base named after Indiana native, astronaut Commander Gus Grissom, who died in the fire of the Apollo 1 space craft.
Near Detroit KDTW is PISTN … for the basketball team and CORVE and FORDZ.  Also, in the skies nearby are MOTWN and WONDR [Stevie was born in Saginaw]. CADLC is an arrival fix.  The TPGUN1 RNAV arrival has several Top Gun related fixes: VYPRE, GGUCE, MAVVV, TPGUN. Not sure why these would be in Detroit, but there's probably some explanation.
There's KUBBS on V84, near Chicago, for "Da Cubs".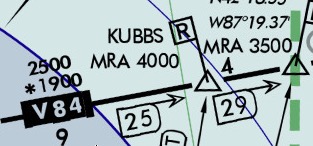 Just to the north of Milwaukee, home of the cheeseheads, is CHDRR.
And anybody who's been to Oshkosh and marveled at the display of warbirds wouldn't be surprised to know about WARBD over the lake southeast of the airport.  Also at KOSH, the FAF on the ILS 36 is named POBER after the founder of the EAA, Paul Poberezny.
At Minneapolis KMSP, KBREW is a departure fix, named for Minnesota Twins Baseball Hall of Famer Harmon Killebrew. Also just north of KMSP is another navaid, the Gopher GEP VOR named for Univ of Minnesota's various Golden Gophers sports teams.
Over at Kansas City KMCI on the ILS RWY 1R are these "local cuisine" waypoints SPICY, BARBQ, SMOKE, & RIBBS.  And following that meat-related theme, Omaha Nebraska has BEEFF as the final approach fix on the ILS 32R. 
There's an RNAV fix near Houston appropriately named ROKIT. 
Jumping to the west coast, Charles M. Schulz – Sonoma County Airport is named after the cartoonist and author of "Peanuts".  The RNAV (GPS) RWY 32 approach has WDSTC, LUSEE, and PIGPN. There's also a departure fix called SNUPY. 
Los Angeles International Airport has some interesting fix names. The ANJLL 4 RNAV ARRIVAL has a whole bunch of fixes named after movie stars: HAKMN, DNERO, CGNEY, SLLRS, SHTNR, OTOOL, BCALL, LEMMN, GLESN, and then amid all those movie stars is FLOJO, the track and field Olympian.  [I'm sure there's a reason.] Of course SNTRA is there too but he's on a different arrival.
Head on down to Vegas and it doesn't take much to imagine the possibilities: POKRR, CHIPZ,  HOLDM, KSINO, WYYNN, and of course…LOOSN.  And finally,"Sin City" has its very own arrival fix: SINNN. [That can get you in a fix.]