Oct 14, 2020. This was sent out today by the FAA Safety Team. It's a good reminder to pick up that mike and talk to McGuire Approach on 126.47.
SAFETY ALERT: CIVIL AIRCRAFT OPERATING IN THE VICINITY OF JOINT BASE MCGUIRE-DIX-LAKEHURST
JB MDL Flight Safety is currently tracking an increase in Hazardous Air Traffic Reporting events related to conflicts between military and civilian aircraft within Alert Area A-220. In recent months, reports have been filed by USAF aircrews that included TCAS "Resolution Advisory" events with non-communicating light civil aircraft. This is a serious safety concern, as an increased potential for midair collisions exist when Air Traffic Control is unable to verify the altitude and type of GA aircraft.
As a reminder, the Aeronautical Information Manual (AIM) defines an Alert Area as Special Use Airspace that is "depicted on aeronautical charts to inform non-participating pilots of areas that may contain a high volume of pilot training or an unusual type of aerial activity. Pilots should be particularly alert when flying in these areas…and pilots of participating aircraft as well as pilots transiting the area must be equally responsible for collision avoidance." [AIM 3-4-6]
The airfields that comprise JB MDL are home to a wide variety of aircraft and a multitude of activities. Our aircrews operate both VFR and IFR, day and night, seven days a week. When transiting the area on any given day, you may encounter KC-10s and 757s in the radar pattern, helicopters flying near treetop level, two- and four-ship formations of C-130s or F-16s, and C-17s performing VFR maneuvers at low altitudes. The vast majority of these activities occur between 500 AGL and 5500 MSL at speeds up to 250 knots, but occasionally higher or lower altitudes are utilized. While not inherently unsafe or unusual in a controlled environment, they may pose a threat to non-participating aircraft.
JB MDL pilots and controllers are asking for your help.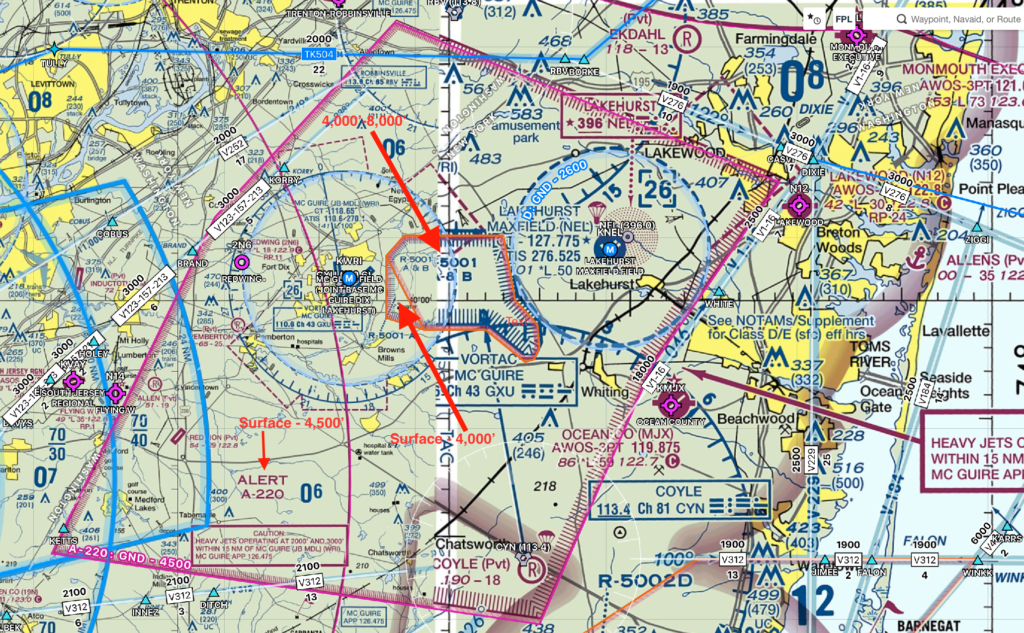 Because of the base's strategic geographic position and the types of operations that occur in and around the airspace, McGuire's Radar Approach Control facility, or RAPCON, is a busy place. Any aircraft without a verified altitude, heading, or tail number ultimately creates a hazardous environment for both participating and non-participating aircraft. To improve the safety of all operators in the area, we strongly recommend that all civil VFR aircraft contact McGuire Approach Control on 126.47 prior to entering the Alert Area, and request flight following. If you're not comfortable talking to ATC, this is a great opportunity to practice! Our controllers are some of the most professional men and women you will encounter in the system, and they share a common goal of making this dynamic airspace as safe and efficient as possible.
If you have any questions, comments, or concerns, please contact us at (609) 754-6852/3484, or 305.AMW.SEF@us.af.mil